Besibaigiant metams kiekvienas save gerbiantis melomanas privalo perkratyti savo fonoteką: ištrinti visas nepasiteisinusias ir pagirioms kamuojant atsisiųstas blogybes, atrasti seniai pamirštus, bet vis dar gerus gabalus bei apžvelgti tai, kas nutiko gero, t.y. buvo atrasta naujo. Žodžiu, nuvalyti dulkes yra neapsakomai prasmingiau negu pirkti kiniškas petardas.
Savo atradimų sąrašą pradedu lietuvišku akcentu: Colours Of Bubbles.
Aš nenustebsiu, jei ši šiauliečių penkeriukė vietą jūsų ausyse atras neiškarto.Gal kaltas truputį specifinis vokalisto balsas (pavyzdžiui, "Mandolino" man gražiau kai sudainuoja viena miela mergina), gal prie jų reikia priprasti, nes kad paklausyčiau jų
"Toilets of space"
iki galo, man prireikė bent 3 mėnesių, bet Džyyy, it's their best song ever! Žodžiu, po truputį, bet ši grupė gėdos Lietuvai nedaro ir yra verta jūsų fonotekos dėmesio.
Pagyrėm lietuvius - metas emigruoti. Vasaros atradimas definitely buvo The Last Shadow Puppets coveris
"Paris Summer"
. Besiklausant Nancy Sinatros originalo apima liūdesys. Tuo tarpu Puppets darbas kartu su Alison Mosshart įkvėpia: prieš akis iškyla Sena, cobbled street ir Paryžiuje kažkadaise gyvavusi bohema (sako, bohemos ten nebeliko, užtai daug šiukšlių ir benamių). Anyway, net ir žiemą ši daina sušildys. Don't forget some wine.
Keliaujam į Kanadą ir sutinkam, nepatikėsite, bet 35metį, Michael Bubble. Šiuolaikiškas Frankas? Not sure about that, bet bet kokiu atveju jo atliktos "Feeling Good" bei "Moondance" nepaliko abejingų. Perdainuoti šis vaikis sugeba geriau negu kurti pats, bet originali
"Home"
ne ką mažiau nusileidžia savo pirmtakėms.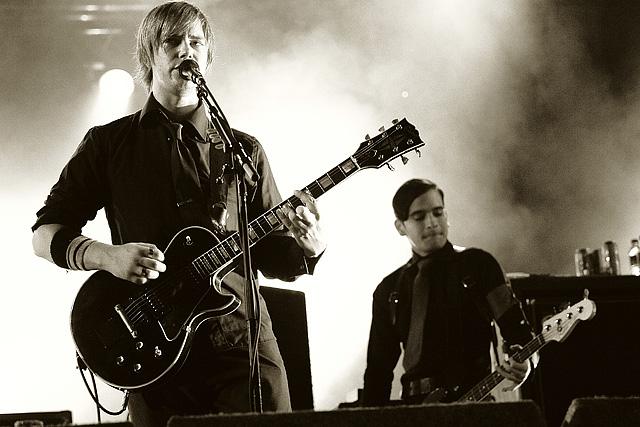 Interpol. Amerikiečiai irgi moka kurti muziką apsieidami be "You're my Valentine/On my skin tight jeans". "Pioneer to the Falls" dėčiau į kokio gero (bet tikrai gero) filmo soundtrack'ą.
Your heart makes me feel
"Your heart makes me moan
For always and ever, I'll never let go
Always concealed
Safe and inside, alive!"
Nuklydimas: Kate Nash versija nėra blogai, bet come on, mergyt, išmok žodžius!
Ir paskutinis atradimas, vokiečių band'as The Baseballs. Primena Presley'į, bet gerąja prasme. Įrodymas 90 procentų lietuvių, kad perdainuoti gabalą galima ir origanliai bei ko-ky-biš-kai. Tikiuos, pasaulis jų nepamirš kaip atsitiko Liquido. Tuo tarpu pasimėgaukit Hot n Cold.
Have funny bunny year. Always yours B.